Kurt Angle has been regarded as one of the best wrestlers of all time. Winning Olympic Gold twice with a broken freakin' neck, Kurt has been instrumental in shaping WWE's Attitude Era and the Ruthless Aggression Era.
In case you're a newer fan who wasn't watching WWE during Angle's prime, or if you're an older fan who wants to revisit the Olympic champion's glory days, NYK Daily has you covered. Here are Kurt Angle's top 5 Matches. (I am deliberately ignoring Kurt Angle's matches against Chris Benoit for obvious reasons)
5. KURT ANGLE VS. SAMOA JOE (TURNING POINT 2006) – TNA IMPACT
We cannot ignore TNA when we speak about Kurt Angle. Kurt Angle justifies the distinction of having the most exceptional debut in TNA Impact history. Not only that, but his debut feud might also be one of his greatest. A month earlier Kurt Angle had his first match in TNA at Genesis 2006. A match in which he handed Samoa Joe his first-ever pinfall loss in TNA after over a year+ of being undefeated.
Angle, having just debuted, was able to act both as a heel and fan favorite in this match. This made it interesting as he was able to low blow and use a chair against Joe, but somehow not come off like "the bad guy." This match was really the Angle Lock versus the Coquina Clutch. It was great seeing all the reversals and counters. Just seeing Angle in a new environment with new opponents revitalized his career for the next couple of years.
4. Kurt Angle vs. The Undertaker vs. The Rock (Vengeance 2002) – WWE
This was probably the best Undertaker match in early 2000s. Triple Threats can be stale unless all three athletes have the endurance to grind them out. And in this regard, the Triple Threat between Kurt Angle, The Undertaker, and The Rock was ideally timed. All three men were in the best shape of their respective careers, battling regularly with their opponents and breaking up multiple pin counts
They fought in every possible alteration; as alliances against the odd man out, and as every man for himself. And they did a great job of including the steel chairs and ring into the match, never making it feel like the hardcore components were pure brutality for their own sake. Angle has a gift for raising the people around him. As technically fashionable as he is, he was also an unselfish seller of everyone else's offense. The Rock was a greater star leaving this match than he was entering it.
3. Kurt Angle vs. The Undertaker (No Way Out 2006) – WWE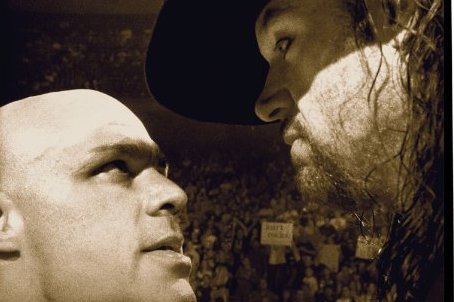 Angle and Taker stole the show in this 30-minute classic at the No Way Out 2006. For Angle, the match took place during his 6th and final run as World champion in the WWE as he'd debut in TNA Impact soon after. He had at least one trick left in his basket and showed why he was and will always be one of the most cerebral wrestlers of all time. Taking on The Deadman is always a daunting task but Angle was more than up for the hurdle. He went at his opponent with his normal brutality, targeting Taker's legs in hope of the Ankle Lock. But Angle had his hands full as Taker went at him with heedless enthusiasm in pursuit of his fifth world title. Like the ending or hate it with Angle pinning Taker while trapped in the Hell's Gate submission, Undertaker lost nothing in defeat, and Angle plastered himself among the best of all time. In 2006, I was disappointed with just one thing. This match should have happened at Wrestlemania but we got to see The Deadman Vs Mark Henry instead. Vince works in magical ways.
2. Kurt Angle Vs Brock Lesnar- Iron Man Match (Smackdown 2003) – WWE
Kurt and Brock Lesnar had an unbelievable main event at Wrestlemania XIX, during which Lesnar botched the Shooting Star Press and landed on his head. But the two of them were turning heads long before that. And their 60-minute Iron Man match on Smackdown was probably the best match the two of them ever put together. These long matches have the potential to get tedious, but Angle and Lesnar mixed things up constantly. It started with Lesnar getting himself disqualified by using a steel chair. This gave Angle the first point of the match, but it also weakened him and allowed Brock to eventually win the match, and the WWE Championship, with a score of 5-4. In the final seconds of the fight, Angle cinched in the Ankle Lock, but Lesnar managed to hold on without tapping, making it an unforgettable sight.
1. SHAWN MICHAELS VS KURT ANGLE (WRESTLEMANIA 21) – WWE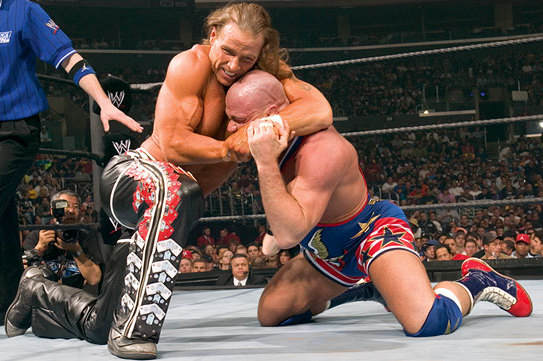 HBK is best known at Wrestlemania for his excellent matches against the Undertaker, But before that, his most prominent Mania accomplishment may have been his 5-star match against Kurt Angle. The promos leading to this match were excellent and Kurt Angle singing HBK's old theme music still resonates in my ears. Shawn set the tone early on, by slapping Angle across the face in a blatant sign of disrespect. However, for the remainder of the match, Kurt Angle proved himself more than a game for Mr. Wrestlemania. The match ended, as so many Angle matches do, with a long Ankle Lock. Shawn and Kurt upped the drama of the submission by getting creative; Kurt rolled with Shawn every time he tried to twist his way out. Kurt ultimately had to lock in the revised Grapevine Ankle Lock to stop Shawn from moving. Shawn tapped after struggling for a few minutes, and Kurt added another prestigious win to a storied career.