Becky Lynch Starts the Show
Becky Lynch made her entrance with the Women's Championship and the crowd popped good. The crowd is still behind Becky and I like that.
Lynch said the time for joking is over and now she finally knows who her WrestleMania opponent is – the cage fighter Shayna Baszler. Lynch said let's take a look at last night's Elimination Chamber.
That led to the video package showing Baszler's dominance in the main event Elimination Chamber match. Baszler stood strong against all five women in the Chamber match. She was in Brock Lesnar Mode to be honest.
Becky says she might be a bitch, but she's the bitch who runs this division. Lynch says she remembers Baszler refusing to shake her hand at WrestleMania last year, but she accepts Shayna is the biggest threat to her title since she took it from Shayna's friend, Ronda Rousey.
Segment Review: Becky is good on mic. She is probably one of the very few women wrestler who could fight & talk. It was an excellent promo according to me. This starts the official build up to Wrestlemania. Good Segment.
Rey Mysterio was shown walking backstage because he's up next against Angel Garza in the first match of the night.
Booyaka Booyaka 619! Rey Mysterio made his entrance. They showed a clip of Garza giving Mysterio the Hammerlock DDT on the exposed cement to give Rey a month off with an injury angle.
Rey Mysterio vs. Angel Garza
Mysterio with a headscissors that sent Garza into the turnbuckle, then a snapmare and Garza with a kick. Garza sent Mysterio in the ropes, Rey did a headstand and Garza kicked him in the face. Garza kicked Mysterio out of the ring and Garza ripped off his pants to reveal the tights, which is a spot that gets a bigger pop every week.
Rey then tries to leap over Angel at the turnbuckle, but as he is midway through the move, Garza connects with another big kick to the face as Rey is then dumped out of the ring. Angel then sets up Rey in the 619 position, but as he goes for it Mysterio reverses with a big dropkick.
Rey then manages to send Garza out of the ring as he then slides under the bottom rope, crash landing onto his opponent. Back in the ring, Mysterio connects with a seated senton and then a big enziguri, but Angel manages to power out of the pinfall.
Angel manages to catch Rey in mid-air though and hits a reverse suplex off the springboard and this time it's Rey kicking out at the last second. However, Rey once again turn thins around and sets up the 619, but Angel gets out of the way and follows it with a massive superkick.
The two men then brawl on the top rope with Mysterio getting the best of the situation, but as he goes for the Destroyer, Garza catches him. Yet Rey has another reversal in mind, setting up the 619 which he follows with the splash from the top rope.
Winner: Rey Mysterio
Match Review: 3.5/5 Rey Mysterio hasn't lost a step. He is still fighting 3+ star matches every week. This was a brilliant match which was set up well climaxing with a 619. Garza was commendable. He can be a future U.S. Champion if build up well. Rey Mysterio should have lost to build a new talent? Maybe. But I am fine with his victory. Good Even Match.
Backstage we see Kevin Owens arriving. Akam and Rezar from AOP were there with Murphy and Seth Rollins. Owens threw his luggage at AOP, but then the heels attacked Owens and shoved him into some crate. Murphy hit a running kick to KO's head. AOP and Murphy threw crates onto Rollins. That led to producers like Lance Storm, Jamie Noble, Pat Buck and Sonjay Dutt checking on Owens.
Segment Review: Classic Payback. Rollins is growing on me yet again as a heel.
Next week on Raw: Stone Cold Steve Austin is back. It is 3:16 day next week. Is he returning to the ring? NO. But he will help build a few matches. I am excited to see some Stone Cold Stunners and a beer bash.
A video played showing Rhea Ripley walking into Raymond James Stadium in Tampa Bay where WrestleMania will take place. Ripley quoted some famous Ric Flair lines and she's going to beat the best in Charlotte Flair to be the best.
Charlotte Flair in the ring
Charlotte Flair, the 2020 Women's Royal Rumble winner, made her entrance.
Flair asked the fans if they saw the video package and said "meet Rhea Ripley," who Flair claimed was the next big thing or the new shiny toy. Flair said that it got her all fired. Flair said that in order to be the best, you've got to beat the best, but Ripley wants to be herself. Flair said that Ripley is not her, you will never be Flair and there is only one of Flair. Flair said that it's one thing to walk around an empty stadium, but it's another thing to be there in front of 90,000 people and be humbled.
Rhea Ripley made her entrance with the NXT Women's Title around her waist. Ripley walked down to the ring to stand face to face with Flair.
Ripley said she was going to explain something and Flair said we already heard enough from her. Flair said that this is not NXT, this is Monday Night Raw and this is her kingdom as the fans let out "WOO" chants. Flair told Ripley she's excused, so Ripley punched Flair in the head and Flair bumped onto her butt.
Segment Review: Fine but Cheesy. Let them fight WWE. A punch is not enough. Build this rivalry up! Fans love a better build up than this.
Randy Orton was shown standing around backstage with a serious look on his face to show us that he's going to be there later.
Bobby Lashley vs. Zack Ryder (w/Curt Hawkins)
Straight away Bobby Lashley runs Zack Ryder down as he then launches him into the corner. Lashley drives into Ryder's stomach and then continues his beatdown. Lashley once again goes for the attack in the corner, but Ryder catches him with a double knee reversal. Ryder's hope doesn't last long as Ryder is planted down onto the mat as Lashley follows up quickly with the Dominator.
Winner: Bobby Lashley
Match Review: 0.5/5. Boring Match. Bobby Lashley doesn't excite me. WWE seriously needs to stop burying Zack Ryder. He was a good talent, mate.
SETH ROLLINS knocks on the Darkness
Aleister Black is shown in his usual darkroom, but somebody enters the room. Seth Rollins and Murphy. Seth says that Murphy has told him a lot about him, and Seth has noticed he has been in a problem with the numbers game.
Seth says he is an expert at the numbers game, and he wants him on his side. Aleister turns down the initial offer, but Seth says he is either with them or against them. Black says those words sound like fighting words, and he accepts.
ERICK ROWAN vs DREW MCINTYRE
Drew McIntyre takes a peek over at Erick Rowan's cage so he charges over but gets caught with a big boot. McIntyre sends Erick to the outside and Rowan drags him out with him, however, Drew has no problems brawling on the outside as he launches Rowan over his head to the floor.
Drew then grabs the cage, and then the steel steps and smashes the cage! Rowan charges over to him but gets caught by the Glasgow Kiss as Rowan is planted with a Futureshock DDT to follow it up in the ring. Drew then nails Erick with a Claymore Kick, and just like that he earns the win.
Winner: Drew McIntyre
Match Review: 1/5. A Quash by Drew McIntyre. Happy to see him dominate Erick Rowen like this. He should win at Wrestlemania but it hardly seems a lock considering how many times Lesnar has defeated other talented Wrestlers (Hi Braun Strowman)
KABUKI WARRIORS vs NATALYA & LIV MORGAN
Before the match, the champions cut a promo Japanese, although eventually, Kairi Sane asks about Asuka's hand, and she reveals that it is okay. Asuka says she wants to beat someone, and they say Alexa Bliss' name, calling her a mean girl and a dumb girl, but Natalya then makes her way out to cut her off.
Kairi Sane and Liv Morgan kick things off in the ring with Morgan getting the best of the early exchange, avoiding Sane's attack as she follows up with a dropkick that sends Sane into the ropes. Nattie and Morgan then hit a double suplex, but Kairi is able to kick out.
Ruby Riott then makes her way down to get a closer look at the match. She gets to see Morgan continue to dominate after the break and once again the new pairing hits a great double team, this time on Asuka. However, she turns things around with a spinning back fist and Kairi then attacks the injured arm of Nattie on the outside.
The Kabuki Warriors then smartly continue to isolate the arm of Natalya with frequent tags. The match continues with Natalya finally hitting a power slam to Asuka as Sarah Logan also makes her way down to ringside. The former Riott Squad members brawl outside the ring and Liv hits a huge crossbody from the top turnbuckle, taking both women out.
However, back in the ring, there is nobody for Natalya to tag and she keeps fighting alone, hitting a huge discus clothesline on Kairi Sane which gets a near fall. Asuka makes a bling tag and as Natalya sets the Sharpshooter on Sane, she enters the ring and connects with a huge kick to the head.
Winners: The Kabuki Warriors
Match Review: 2/5. Average match that went too long. WWE hasn't built up teams that could challenge The Kabuki Warriors. WWE Women's tag team is very thin at the moment. It needs a 'Revolution'
AJ STYLES IS ANGRY
AJ Styles that not once, but twice The Undertaker has stuck his nose in his business where it doesn't belong. He says that Undertaker has taken two moments from him, first stealing a beautiful trophy from him, and then he cost him a match.
AJ Says three years ago he saw Undertaker get beat by Roman Reigns, and after the match, he left his gear in the middle of the ring. Truthfully, AJ believes Undertaker should have gone when Brock Lesnar ended the streak, but his WrestleMania 33 moment was powerful.
However, AJ thinks Undertaker ruined it. He asks the Deadman why, if it was the spotlight or his ego. However, AJ says it will cost him because he wants him at WrestleMania. Styles says 15 years ago, he would have been hesitant to call Undertaker out, but he doesn't see a Phenom anymore, but he sees a broken-down old man named Mark Calloway.
AJ says he doesn't know what keeps him coming back, but he thinks it's his wife, Michelle McCool. AJ says Michelle plays him like a fiddle because whatever she wants she gets, despite the fact that Undertaker just comes to the ring and gets hurt.
AJ gives some advice to The Undertaker and says that his wife will run him into the ground, and he is going to help her. Styles claims he is going to make sure Undertaker is going to die at WrestleMania and do exactly what his wife wants him to do.
He says it is simple, he is challenging Undertaker to a one on one match at WrestleMania. Styles adds that the people don't give a damn about The Undertaker, so he should accept the challenge, as he promises to put the nail in his coffin.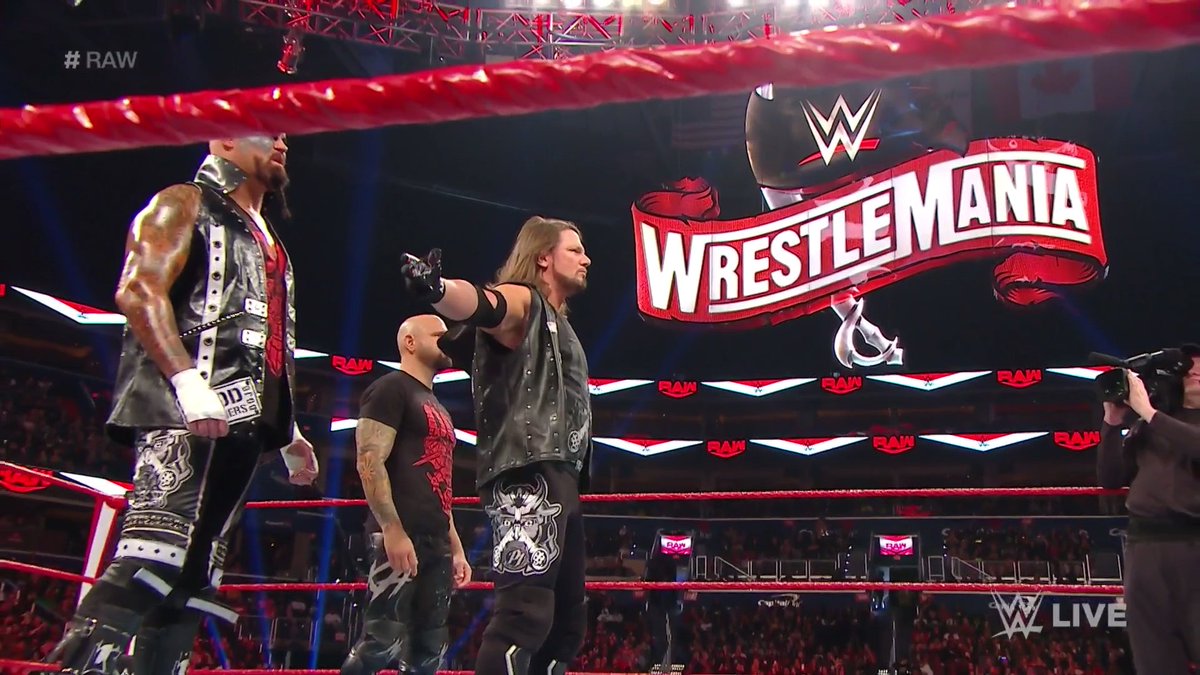 Segment Review: AJ Styles is a highly talented Wrestler who can deliver a serious promo every now and then. The Undertaker Vs AJ Styles would have been a sure 5 star bout 8 years ago. Hope it is not a squash match. The Undertaker is a very smart and he would want to go at-least 12-15 minutes against AJ Styles.
WWE 24/7 CHAMPIONSHIP MATCH
RIDDICK MOSS (c) vs CEDRIC ALEXANDER
Riddick Moss immediately picks up the pace as he hits the ropes, catching Cedric Alexander. He then tosses Alexander out of the ring with a fallaway slam. Back in the ring and Alexander plants Moss, but he is only able to get a near fall.
Moss then charges into the corner and takes down Alexander, following it up with his neckbreaker finisher to get the win.
Winner: Riddick Moss
Match Review: 0.5/5. Yawn. Why is this Championship still around? Bringing it was never a good idea. Bad match. Bad championship. I feel sorry for Cedric Alexander.
You Think You Know Me
MVP says at this point in his career he is transitioning from in-ring competitor to absolute brainiac. He believes it is time to take others to championship status and to build his stable, he needs a solid man to build it around, a man like Edge.
He says Edge sometimes has a problem with focus, but with his guidance, he has no doubt he could guide Edge to being a champion again. MVP continues to talk about Edge as we are shown the Rated-R Superstar looking maniacal arriving in the building backstage.
He makes his way down to the ring wasting very little time and he instantly snatches the microphone from MVP and calls out Randy Orton. MVP then asks Ede what is wrong with him, saying his mental is off and focusing on the wrong things.
MVP says that speaking of the wrong things, how is his wife? Edge Spears MVP, but from behind Randy Orton appears and attacks Edge. The two men brawl and Edge drops him with an RKO! That drew a HUGE pop from the crowd. That looked great too. Edge then gets a couple of chairs but Orton slides out of the ring.
MVP then tries to attack Edge again and he locks in a submission, taking out MVP as he stares down a whole in Orton's soul. Edge then hits an RKO on MVP who lands headfirst onto the chair and the WWE Hall Of Famer then connects with a con-chair-to of his own to MVP. Edge then hits another con-chair-to as he keeps staring down the Viper.
Segment Review: WOW! What a segment. I am just so intrigued with this build up. Edge looks so good and I missed him. It was everything it should have been with Edge getting revenge for what Orton to Edge's wife Beth last week. Best Segment of the Night. It will be remembered for Edge's RKO outta Nowhere.
SETH ROLLINS vs ALEISTER BLACK
The two men grapple early on with both men reversing and trading different strikes and grappling moves, eventually staring each other down. Black sends Rollins out of the ring but then bounces back off the ropes to hit his trademark pose.
Back from the break and Seth Rollins has taken control, hitting the sling blade to take down Black as he follows up with a series of elbow attacks to the neck. Rollins goes for a knee strike but misses and Black begins to unload with his strikes.
Black hits a moonsault and then attacks Murphy who leaps up to the apron, and Black hits a big boot and then a suplex to Rollins, but Murphy leaps into action to stop things, ending the match. Rollins and Murphy then work together to attack Murphy and AOP then come down to help out.
The Viking Raiders eventually hit the ring to help out, but the numbers game proves to be too much, until The Street Profits head out as well, evening the numbers.
Match Review: 2.5/5. Decent Match for the time given. It was more of a segment and a build up to a predictable Tag Team Match. I wish they got 20 Minutes in the ring without interference, but I guess we will have to wait for it.
THE VIKING RAIDERS & THE STREET PROFITS vs SETH ROLLINS, MURPHY, & AOP
The Viking Raiders dominant Razar as the match returns from the commercial, but eventually the tag is made to Seth Rollins and he smartly connects with a forearm to Ivar. However, he then misses with a splash as Ivar runs over Murphy and gets power slammed on top of Murphy.
Tags are made and Montez Ford ends up on the wrong end of it as he is launched across the ring by Razar as AOP then begin to work together and dominate him. Murphy gets involved and he continues to work on Montez, but he eventually gets the tag to Erik.
He lanches Murphy across the ring and then sends Razar flying with a big knee to the jaw as well. But Erik isn't done as he goes for a suicide dive, but he is caught and the two men staredown until Murphy leaps off the apron with a double knee strike.
As we return from commercial, Erik is still isolated, as he is launched into the barricade by Seth Rollins. But as he goes to do it again, Erik reverses and puts Rollins into the front row. However, Erik isn't able to make a tag as his partners are knocked off the apron.
Rollins and his motley crew continue dominating Erik, constantly working behind the officials. However, he finally breaks through and brings in Montez Ford and he picks up the pace and plants Murphy with a huge DDT! However, after another commercial, the match returns with the heels in control.
Montex tries to battle his way out to his partners, but Murphy hits a belly to back suplex to stop him. Yet Murphy then begins showboating and he is made to pay as Ford connects with a superkick and in comes Ivar!
The big man hits the ring and starts cleaning house on everyone in sight. Montez Ford comes back into the match with a huge frog splash but Rollins kicks out, yet the Viking Raiders then charge out with suicide dives, leaving just Rollins on his own in the ring.
Seth takes out Dawkins with a knee strike but gets sent out of the ring as well and Ford then wipes out everyone! Yet when he climbs back into the ring, Rollins hits the stomp!
Winners: Seth Rollins, Murphy, AOP
MATCH REVIEW: 3.5/5. Good Tag Team Match that went a little too long. I am impressed with Buddy Murphy and his style of Wrestling. Seth Rollins was at his very best as usual. Good Match but went over 25 minutes. Cut down 6-7 minutes and I'd have given 4 stars. The ending sequence was exciting and the crowd was into it.
After the match, Kevin Owens appears and hits Akam with a Stunner as he sends Razar over the top rope. He then connects another stunner with Murphy, but Rollins gets back in time to hit another stomp, this time to Owens!
Monday Night Raw Review: 6.5/10
Decent Episode which was used as a build up to Wrestlemania and rightfully so.
Becky Lynch was excellent on Mic and the build up to her match is amazing.
Bobby Lashley bores me. Release him or else build a better character for him.
Seth Rollins Vs Kevin Owens will be really good at Wrestlemania. I am happy with what I see. Kevin Owens 3:16 is over with the crowd. Seth is playing a great heel. Good Rivalry.
AJ Styles was really angry in the episode. I hope he doesn't get squashed at Wrestlemania. The Undertaker will be back next week for a contract signing. Chokeslam on Table? Well that wasn't predictable. Duh!
EDGE is the best there is, the best there was, and the best there ever will be. (Sorry Bret Hart). He was intense on Mic and the chaos with Orton was just what the doctor ordered. The EdgeKO was pretty impressive. Adding MVP in the segment was not a bad idea. Orton Vs Edge is the best built match this year. The Spear from Edge to MVP is art.
Stone Cold Returns Next Week for 3:16 Special Episodes. Expect Stunners and Beers.
TOP 3 Stars of the show
Edge (Welcome back Adam)
Randy Orton (He complimented Edge really well)
Becky Lynch (Excellent on Mic)
Seth Rollins, Kevin Owens and Rey Mysterio were great with 3+ Star Matches.
Liked our coverage? Download our Mobile App Now to stay updated in 50+ Categories. We go live from all six continents, everyday, 24 hours a day.