Canada's trade balance narrowed slightly in September as imports fell more than exports, amid concerns that trade tensions and uncertainty around global growth are weighing on outflows.
The nation's merchandise trade gap hit C$978 million in September, from a revised C$1.2 billion deficit in August, Statistics Canada said Tuesday in Ottawa. The result missed economist expectations for a smaller deficit of C$650 million.
The weakness in the report is consistent with the view from the Bank of Canada that ongoing trade conflicts between the U.S. and China is hitting business investment in Canada and weighing on exports. The central bank last week forecast an outright decline in exports and investment in the second half.
Both exports and imports fell in September but imports fell more quickly, dropping 1.7% on fewer metal and non-metallic mineral product shipments, particularly gold. This follows a large gain of 9.2% for the category in August. In volume terms, which strip out the effects of price changes, exports fell 2.1% in September, and imports dropped 1.6%.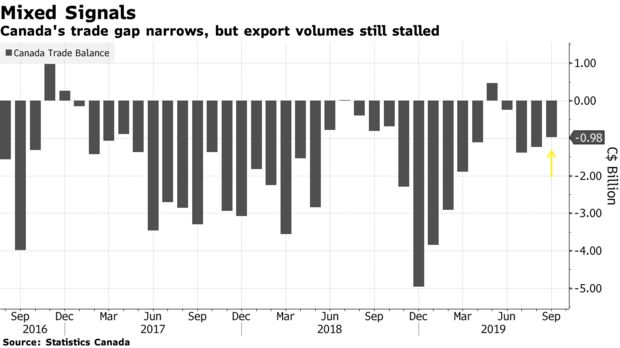 Exports fell 1.3% in September, with declines across the board led by energy products, particularly crude, the aqency said. Refined gold exports also fell, offsetting all the gains in July and August. The decline in gold exports was partly offset by higher exports of "articles of gold."
On a quarterly basis, total exports dropped 2.3% in the July to September period, declining 0.5% in volume terms. That compares with robust increases in the second quarter of 4.8% in nominal exports and 3.5% in volumes.
Imports rose 1.6% on a volume basis in the third quarter, driven mostly by motor vehicles and parts, the agency said.
Canada's trade surplus with the U.S., its main trading partner, was largely unchanged in September as both exports and imports fell. The surplus decreased slightly to C$4.8 billion, from C$4.9 billion in August.
Exports of canola plunged 49% in September, reaching the lowest level in more than 6 years, the agency said. Exports of the crop so far this year are down 22% compared last year, mainly due to declines in shipments to China.
At the same time, Canada bought more Chinese goods, contributing to a larger deficit.
August's trade balance was revised to a deficit of C$1.2 billion, after an initially reported C$955 million, the statistics agency said.