Internationally acclaimed sand artist Sudarsan Pattnaik today dedicated a beautiful sand art at Puri beach to celebrate the 69th birthday of Prime Minister Narendra Modi.
Sudarsan Pattnaik took to Twitter and shared a picture of his sculpture with a beautiful message.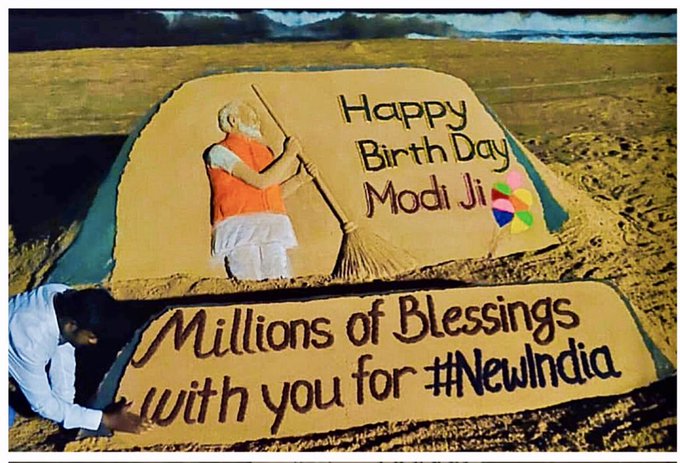 While netizens are showering their love on Prime Minister Narendra Modi through social media, many political leaders also extended their greetings to the PM.
Narendra Damodardas Modi is serving as the 14th and current Prime Minister of India since 2014. He was the Chief Minister of Gujarat from 2001 to 2014 and is the Member of Parliament for Varanasi.
Modi is a member of the Bharatiya Janata Party (BJP), and of the Rashtriya Swayamsevak Sangh (RSS), a Hindu nationalist volunteer organisation.
He is also the first prime minister outside of the Indian National Congress to win two consecutive terms with a full majority, and the second one to complete five years in office after Atal Bihari Vajpayee.
History was scripted in the forecourt of Rashtrapati Bhawan on the evening of 26th May 2014 as Narendra Modi took oath as the Prime Minister of India after a historic mandate from the people of India.
In Narendra Modi, the people of India see a dynamic, decisive and development-oriented leader who has emerged as a ray of hope for the dreams and aspirations of a billion Indians.
His focus on development, eye for detail and efforts to bring a qualitative difference in the lives of the poorest of the poor have made Narendra Modi a popular and respected leader across the length and breadth of India.
Narendra Modi's life has been a journey of courage, compassion and constant hardwork.
At a very young age he had decided to devote his life in service of the people. He displayed his skills as a grass root level worker, an organiser and an administrator during his 13 year long stint as the Chief Minister of his home state of Gujarat, where he ushered a paradigm shift towards pro-people and pro-active good governance.
With Narendra Modi as India's Prime Minister, this is India's chance to become the world capital of Arts, culture and knowledge yet again.