The Emmy Awards were a mixed bag Sunday night, with some shockers, such as a "Fleabag" sweep, and other expected wins, like best drama going to "Game of Thrones."
"Fleabag" won best comedy series, and creator Phoebe Waller-Bridge took home the trophy for best actress, upsetting perennial favorite Julia Louis-Dreyfus. The dry-witted show also won in the genre's directing and writing categories. "Barry" co-creator Bill Hader won best actor for the second year in a row.
On the drama side of things: Billy Porter won best actor for "Pose," which the Associated Press reported makes him the first openly gay man to win in the category. First-time nominee Jodie Comer won best actress for playing a psychopathic assassin in "Killing Eve," a series that, coincidentally, was also created by Waller-Bridge. Jharrel Jerome received an extended standing ovation for his lead actor in a limited series or movie win for "When They See Us," Ava DuVernay's miniseries about the Central Park Five.
Keep scrolling for a time-stamped look at how the night unfolded.
"Game of Thrones" wins best drama series and a fourth Emmy for Peter Dinklage for his performance as Tyrion Lannister in the final season.
Billy Porter ("Pose") and Jodie Comer ("Killing Eve") win best actor and best actress in a drama, respectively.
Phoebe Waller-Bridge's "Fleabag" wins best comedy, best writing and best actress; Bill Hader wins lead actor in a comedy for "Barry" for the second consecutive year.
"Saturday Night Live" wins variety sketch series for third straight year; "Last Week Tonight With John Oliver" wins variety talk series for fourth straight year.
―
10:59: "Game of Thrones" wins outstanding drama series. The show took home the prize for its final season, despite it being generally reviled by critics and fans alike. That shouldn't be too surprising. In 2016, it became the most awarded show in Emmy history. The final season actually shattered the record for the most nods for a show in a single season, earning 32.
"This all started in the demented mind of George R.R. Martin," Benioff said, thanking the author. Weiss then thanked the cast, saying, "You make everything we write better. We love you, and we loved every minute we've spent with all of you," before thanking the "hardest working crews in television … it is amazing that all of you are still alive."
"I can't believe we finished it. I can't believe we did it," Benoiff said, before thanking his wife Amanda Peet, which is his usual refrain.
―
10:54: "Fleabag" wins outstanding comedy series.
"Well this is just getting ridiculous," creator, writer and star Phoebe Waller-Bridge said. "'Fleabag' started as a one-woman show at Edinburgh Festival in 2014 and the journey has been absolutely mental."
Waller-Bridge also said "Season 2 would not have had happened or exploded in the way that it did if it were not for Andrew Scott who came into the 'Fleabag' world as a whirlwind." Yes, the Hot Priest.
―
10:46: Jodie Comer wins lead actress in a drama series for "Killing Eve." This was her first nomination.
―
10:42: Jason Bateman wins best directing for a drama series for "Ozark."
The honor, for helming the Season 2 opener, "Reparations," marks the actor-director's first win and seventh nomination. "Wow, that is something," Bateman said before dedicating portions of his statuette ("Mean Girls"-style, but without actually breaking it) to cast and crew members from the Netflix series. "I can't be holding this without a whole lot of people that make this show I'm so lucky to be a part of work," he said.
―
10:38: Billy Porter wins outstanding lead actor in a drama series for "Pose."
"The category is love, y'all. Love. I am so overwhelmed," began an emotional Porter, who gave an exuberant speech in which he quoted James Baldwin, thanked his mother and praised Ryan Murphy.
First he quoted Baldwin, saying, "It took many years of vomiting up all the filth that I had been taught about myself and halfway believed before I could walk around the earth like I have the right to be here," before adding, "I have the right, you have the right, we all have the right."
Then he thanked those in his life. "I love you, Mommy," he told his mother, who was sitting in the audience, then thanked the show's co-creator Ryan Murphy: "You saw me, you believed in us, thank you, thank you, thank you."
Finally, he left the audience with some thoughts on artistry: "We as artists are the people who get to change the molecular structure of the hearts and minds of people who live on this planet … Please never stop doing that."
―
10:29: Halsey sang a rendition of "Time After Time" for the In Memoriam segment, which paid tribute to everyone from John Singleton to Doris Day to Cokie Roberts.
―
10:22: Julia Garner wins supporting actress in a drama series for "Ozark."
―
10:19: Jesse Armstrong wins best writing for a drama series for HBO's "Succession."
―
10:14: Peter Dinklage wins outstanding supporting actor in a drama series for "Game of Thrones."
Winning his fourth Emmy for playing Tyrion Lannister, Dinklage's win marked the first for "Game of Thrones" on Sunday night. Dinklage kicked off his speech by admitting, "I have no idea what I'm about to say, but here we go."
First, he said he was thankful to be part of a community of tolerance and diversity, because there is "no other place could I be standing on a stage, like this." But he spent most of his speech profusely thanking co-showrunners D.B. Weiss and David Benioff.
"I had no idea what I was getting myself into but I knew David and Dan were quite brilliant," he said, before saying something that was censored on television.
"We did nothing but sweat. We did nothing but laugh," said Dinklage, who beat out two of his co-stars, Alfie Allen and Nikolaj Coster-Waldau for the award. "I would literally walk through fire and ice for you, literally. And would do it again in a heartbeat."
―
10:03: "Last Week Tonight With John Oliver" wins best variety talk show series.
This is the fourth year in a row the HBO show has won this award, and John Oliver gave a special shout-out to "Game of Thrones" for "the lead in" all these years.
―
10:00: Don Roy King wins best directing for a variety series for "Saturday Night Live."
―
9:51: "Saturday Night Live" wins best variety sketch series.
Lorne Michaels, the show's longtime executive producer, gave an unexpectedly poignant speech, noting that the series had submitted the episode hosted by Adam Sandler. The comedian returned to Studio 8H in May — 24 years after leaving SNL — and performed a tribute to his late friend and co-star, Chris Farley. The moment made "the crew and the cast and everyone who was in that studio" emotional, Michael said.
"It's rare that you see a cameraman tear up or a boom crew crying, but it was a very, very chilling moment and very powerful," Michaels said. "And it's those kinds of moments, which is why we're going into our 45th season, and that sort of thing is what keeps us there. That, and the politics."
―
9:49: "Last Week Tonight With John Oliver" wins outstanding writing in a variety series.
―
9:39: "Chernobyl" wins for best limited series.
Creator Craig Mazin thanked the country of Lithuania, where much of the series was filmed, and said that he hoped "in some small way, our show has helped remind people of the value of the truth and the danger of the lie." He also mentioned "When They See Us" as another example of how television can bring stories to light and make them known.
―
9:34: Michelle Williams wins lead actress in a limited series or movie for "Fosse/Verdon."
"I see this as an acknowledgment of what is possible when a woman is trusted to discern her own needs, feels safe enough to voice them and respected enough that they'll be heard," she said.
Williams went on to thank FX and the series' producers for "supporting me completely and for paying me equally." (The actress has been outspoken on pay equality since news broke that she made less than one percent of the money her co-star Mark Wahlberg did for the film "All the Money in the World.")
"They understood that when you put value into a person, it empowers that person to get in touch with their own inherent value," she continued. "And then where do they put that value? They put it into their work. And so the next time a woman — especially a woman of color, because she stands to make 52 cents on the dollar to her white male counterpart — tells you what she needs to do her job, listen to her, believe her. Because one day, she might stand in front of you and say thank you for allowing her to succeed because of her workplace environment, and not in spite of it."
―
9:27: "Black Mirror: Bandersnatch" wins outstanding television movie.
The win led to a solid Brexit joke from "Black Mirror" creator and co-showrunner, Charlie Brooker, who quipped: "Being British we were conditioned to expect 52 percent of you to vote for Brexit."
―
9:17: Jharrel Jerome wins outstanding lead actor in a limited series or movie for "When They See Us."
Jerome's win marks the first of the night for the Ava DuVernay's powerful Netflix series about the Central Park Five, five men of color who were wrongly prosecuted for rape and assault. Their convictions were later vacated.
After thanking DuVernay "for giving me this opportunity" and his mother, who he brought as a guest, Jerome addressed the men the series was about — all of whom were in the audience as guests of DuVernay. "Most importantly, this is for the men that we know as the Exonerated Five. Thank you so much. It's an honor; it's a blessing," Jerome concluded, as the audience rose and applauded.
―
9:13: Craig Mazin wins best writing in a limited series or a movie for "Chernobyl."
―
9:11: Ben Whishaw wins best supporting actor in a limited series for "A Very English Scandal."
Whishaw, who confessed to having a hangover after his agent took him out earlier, thanked his fellow castmates. And to Hugh Grant, he said: "I hope you get one of these."
―
9:04: Johan Renck wins best directing for a limited series or a movie for "Chernobyl."
―
8:54: Patricia Arquette wins supporting actress in a limited series or a movie for "The Act."
Arquette accepted the award, first thanking everyone from Hulu to her family. "I can't believe this is happening," she said, before assuming a more serious tone and addressing the death of her sister Alexis Arquette, a trans woman who died in 2016 of complications stemming from HIV.
"I just have to say I'm grateful to be working, I'm grateful at 50 to be getting the best parts of my life, and that's great," Arquette said. "But in my heart, I'm so sad. I lost my sister Alexis, and that trans people are still being persecuted, and I'm in mourning every day of my life."
"Change the world so trans people are not persecuted. And give them jobs. They're human beings, so give them jobs," Arquette added, as Laverne Cox, one of the most high-profile trans actors in Hollywood who brought an ACLU attorney as her guest to the awards show, stood in the audience and held up her purse, decorated with a rainbow flag.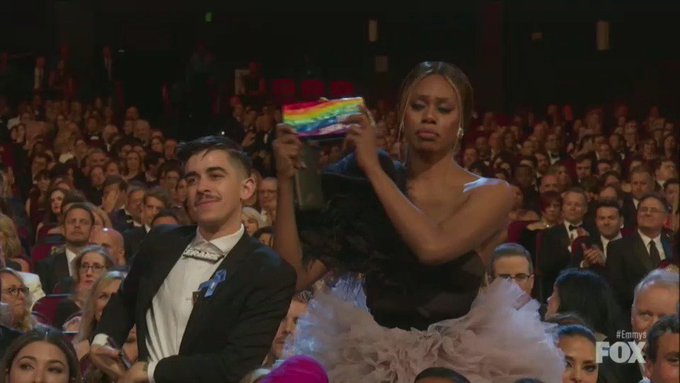 ―
8:47: "RuPaul's Drag Race" wins best reality-competition program.
"We are so proud of this show and we are so happy for all the gorgeous kids who come on and show how fabulous they are," said RuPaul, who then offered one of the few political words of the night: "Thanks to the Academy for voting for us. Speaking of voting and love, go and register to vote!"
―
8:44: Phoebe Waller-Bridge wins lead actress in a comedy series for "Fleabag."
After stunning the audience by beating Julia Louis-Dreyfus, who won for "Veep" six years in a row, Waller-Bridge repeated a joke she made moments ago, when she won best writing in a comedy series: "I find acting really hard and really painful."
She thanked the "Fleabag" family once again, adding: "It's sickening how much we all love each other."
―
8:37: Bill Hader wins best lead actor in a comedy for "Barry."
"That was awesome, thank you," Hader said to presenters Maya Rudolph and Ike Barinholtz, who pretended to be unable to read the teleprompter due to last-minute Lasik eye surgery. (Hader's fellow nominee Michael Douglas was called "Mickey Two-Times" as a result of the bit.)
Hader, who won the same category last year, thanked just one person: his co-creator Alec Berg.
"Usually, after every take, I get one of two responses" from Berg, Hader noted. "Either 'yeah, we should move on,' or 'yeaaaah, we should go again.'"
"I want to thank you for molding my performance, Alec," Hader quipped. "I don't know where I'd be without you, man."
―
8:31: Harry Bradbeer wins best directing in a comedy series for "Fleabag."
"Something like 'Fleabag' only comes along once in your life," Bradbeer said, thanking "a cast that only had to open their mouths to make me look good." He thanked Waller-Bridge in particular, saying she came into his life like "some kind of glorious grenade … scientists are still trying to figure out how someone so utterly talented can be so lovely."
―
8:23: Phoebe Waller-Bridge wins best writing for a comedy series for "Fleabag."
"I find writing really, really hard and really painful but I'd like to say honestly, from the bottom of my heart is the reason I do it is this," Waller-Bridge said with a smirk, holding up the Emmy statuette. "It's made it all really worth it. Thank you, guys."
After thanking everyone who worked on the Amazon Prime show, the writer-actor said, "It's just really wonderful to know, and reassuring, that a dirty, pervy, angry, messed-up woman can make it to the Emmys."
―
8:18: Alex Borstein wins for best supporting actress in a comedy for "The Marvelous Mrs. Maisel."
"I know a lot of people were upset last year because I wasn't wearing a bra," she began, "so I want to apologize because tonight I'm not wearing any underwear. So you're just going to want to throw that chair out or clean it."
Borstein dedicated her award to "every woman on the 'Maisel' cast and crew," as well as her grandmother, who is a Holocaust survivor. Though her grandmother was warned that she might be shot if she stepped out of line, Borstein said, she did so anyway.
"Step out of line, ladies," Borstein concluded. "Step out of line."
―
8:10: Tony Shalhoub wins best supporting actor in a comedy for "The Marvelous Mrs. Maisel."
This is the fourth Emmy for Shalhoub, who plays the father of Rachel Brosnahan's beloved Midge Maisel. The actor said he wasn't much for speeches, or as he put it, "the names and the thanks and the thanks and the names." But luckily for Shalhoub, there were only really two names he needed to remember: creator Amy Sherman-Palladino and executive producer Daniel Palladino. The husband-wife team (also known for "Gilmore Girls") has done just about everything on the show — from writing to musical production — which became the joke in Shalhoub's reluctant speech.
―
8:08: When introducing the comedy awards, Ben Stiller reflected on comedy's past, using wax statues of comedians of old, such as George Burns and Lucille Ball. Then, he reached Bob Newhart. "What would Bob think today, if he could see how the rules had changed?" Stiller said, as the supposed wax statue of Newhart began blinking and talking and we realized it was the real thing. "Ben, I'm still alive," he said. Stiller protested that he actually knew Newhart was alive, to which the elder comedian pointed out, "You put me with George [Burns] and Lucy [Ball] in this weird wax museum of comedy."
Stiller continued defending himself, saying he was just trying to honor a legend, to which Newhart said, "This legend is gonna kick your ass. That way you'll know I'm alive."
"I thought you didn't curse," replied a shocked Stiller. Newhart had one more verbal punch up his sleeve: "You thought I was dead."
―
8:06: Bryan Cranston got shoved onstage by a producer, and he ended up doing the "television is important!" intro, peppering his inspirational ode to television with just a handful of jokes.
Using his best "voice of God," Cranston said that "50 years ago, Neil Armstrong walked on the moon, and through the power of television, 600 million people and 350 million households walked with him. Not a bad rating."
Now television takes us to places like Winterfell ("Game of Thrones") and the Upside Down ("Stranger Things'). It "welcomes us to a family home where … we cry with the Pearsons," from "This Is Us."
"And that's multiple times. Every single week," Cranston said. "Please, stop making us cry." Sterling K. Brown, sitting in the audience, mouthed an apology.
―
8:00: After the night's "host," Homer Simpson, fell through a hole in the stage, "Black-ish" star Anthony Anderson popped out of his seat, ready to go.
"I will get this show back on track," he announced, summoning Taraji P. Henson as well: "Taraji, we will not let this 'Empire' fall!" (Did she even show up after this?)
When Ike Barinholtz offered Anderson a drink backstage, the latter responded, "No Starbucks cups on television!" Oof, a "Game of Thrones" burn within three minutes of the show starting.
―
7:35: A lot of people are excited to see Julia Louis-Dreyfus back in the running for lead actress in a comedy — including her fellow nominee Rachel Brosnahan. "The Marvelous Mrs. Maisel" star won last year when "Veep" wasn't eligible, but Louis-Dreyfus — who famously won six consecutive Emmys for playing Selina Meyer on the HBO comedy — is the favorite to win for "Veep's" final bow. Brosnahan called Louis-Dreyfus "my hero, my queen," and also heaped praise on the other women in the category, calling each of her fellow nominees "a master class in comedy."
―
7:30: There will be no host for this year's Emmys, so Thomas Lennon will be providing the voice-overs in between, doing much of the legwork that a traditional host would do.
Is this stuff scripted? Not all of it. Lennon promised some ad-libbing. "It's going to be different," Lennon said. "But I don't think it will be boring, that's for sure."
―
7:22: "I will not be winning husband of the year, for sure," said Jimmy Kimmel, whose wife — "Jimmy Kimmel Live" co-head writer Molly McNearney — had an unfortunate welcome to the purple carpet. "Someone knocked a huge tray of drinks over," Kimmel explained. "And I immediately took a picture of it." Kimmel may be a terrible Instagram husband, but his ABC late-night show is up for an Emmy.
―
7:20: Emilia Clarke said that after reading the final script for "Game of Thrones," in which — SPOILER ALERT! — her character is assassinated by her nephew/lover Jon Snow, she "just didn't know what on Earth I had just read." A wide swath of the show's fans shared her shock, many of them finding the finale extremely disappointing. Clarke didn't say if she was pleased with the ending or not. Instead, she added that while several cast members took mementos from the set, she was "a good girl." "I [only] took Daenerys in my heart forever."
―
7:16: We're not sure how often Julia Louis-Dreyfus is asked to do "the Elaine" dance from "Seinfeld." But here comes Jenny McCarthy, hosting the Fox pre-show and making this awkward request of the famed comedic actress. (Apparently, it's a "dream" of McCarthy's to do this dance with the "Veep" star.)
"No," Louis-Dreyfus responded. "You do it."
McCarthy then started convulsing, but the review wasn't great; too much rhythm, Louis-Dreyfus said.
―
7:12: Indya Moore, who stars on the nominated series "Pose," spoke about representation in the fashion and entertainment worlds.
"When we're included, it affirms that we are important and we do belong," said Moore, who identifies as trans and non-binary. "I'm happy to occupy that reality and that space."
―
7:05: What's this? Oh, just Jenny McCarthy swapping Kirk Douglas stories with his son Michael Douglas, and his daughter-in-law, Catherine Zeta-Jones.
Apparently the "Masked Singer" host starred in a movie with the elder Douglas. For his birthday, McCarthy decided to surprise him on set with a gift. "I gave him a birthday lap dance," McCarthy recalled. (He was around 80 at the time).
"I'm sure he's never forgotten it," Zeta-Jones told McCarthy. Michael Douglas agreed: "To this day, I go over to my father and he goes, 'Hi. Where's your wife?'"
―
6:55: This is a big weekend for Billy Porter, who turned 50 on Saturday. The actor is a favorite to win best lead actor in a drama for his acclaimed turn as Pray Tell, a nurturing ball scene emcee in FX's "Pose." "All of my dreams are coming true," said Porter, who called Pray Tell "the role of a lifetime." He added: "I'm grateful that I could live to see the day that I could stand in my authenticity."
If Porter wins Sunday, he will be on his way to EGOT — he won a Tony in 2013 for "Kinky Boots," and a Grammy the following year for the same production.
―
6:40: The Emmys are as nerve wracking as you might think for introverts like Laura Linney. "It's not a very natural environment to be in," the "Ozark" star — nominated for best lead actress in a drama series — told E!' s Jason Kennedy. Linney added that it is "a privilege" to work on the Netflix series, which is apparently a favorite of NBA star LeBron James.
―
6:39: Lin Manuel-Miranda feels "like a proud grandpa" because "Fosse/Verdon," on which he's executive producer, earned a whopping 17 Emmy nods. When he learned the news, he said, "I jumped up and down in my apartment." His plan tonight? Cheering until his voice gives out.
―
6:33: Billy Bush is back on the red carpet, where he's reportedly received an "enthusiastic response" from his former colleagues.
This comes three years after The Washington Post published audio of a 2005 conversation between Bush and Donald Trump, in which the then-reality TV host bragged about groping women. In the aftermath, Bush lost his job on NBC's "Today," and Trump was elected president.
Bush, who started a new job hosting on "Extra Extra" this month, told a Variety reporter on the Emmys carpet, "I get anxious before any carpet, or anything I do on a work front, always a little butterflies. You want things to go well."
But is he worried about someone saying something about "the controversy," as the reporter put it? "No, not at all," Bush responded. "That's gonna be — that's really old. I think it's going to be great."
―
6:28: What's it like to attend an award show as a nominee? Betty Gilpin, up for her supporting performance in "GLOW," said you feel like "your most poodle, Versaille, porn self and your most under-the-bridge troll self."
―
6:11: Tony Hale, nominated in the comedy category for his supporting role on "Veep," described his strenuous Emmys prep: "I cooked an egg, I had a glass of water and I got ready."
"Veep," which is also up for outstanding comedy series, concluded its seventh and final season in May, but Hale said it "continues to be hard to say goodbye."
"We like each other a little too much," he added.
―
6:07: Jameela Jamil, one of the stars of "The Good Place," which is preparing to enter its final season, said she "cried my face off" when they finished filming the finale. She joked that fans should blame its creator Michael Schur for it ending. Quickly, though, she offered a heartfelt thanks to Schur: "This man took a chance on me for no good reason," she said, again adding that when filming wrapped, "I cried and cried and cried all night."
―
6:05: "Orange Is the New Black" alumna Laverne Cox brought an ACLU attorney with her to the red, er, purple carpet. The pair talked about the Supreme Court's upcoming vote on a Trump administration brief that argues Title VII — the landmark statute that prohibits employment discrimination — does not protect employees from discrimination based on sexual orientation. Cox's rainbow-colored clutch featured a rundown of the cases' most significant details, including the date Oct. 8, which is when the court will hear cases.
"A lot of people aren't talking about this case and it has implications for the LGBTQ community, but it has implications for women and anyone who doesn't conform to someone else's idea of how you should be a man or a woman or both or neither," Cox told Guiliana Rancic.
It was a markedly political intro to E!' s pre-show coverage, but Cox noted, "It's not all political, like I dance around in my underwear, too." That aside led Rancic to ask about the looks the actress was serving at Rihanna's recent Savage X Fenty fashion show.
―
6:03: Your eyes are not deceiving you: Stars are arriving and stopping to chat on a carpet that is not red, but a deep shade of purple. According to the show's producers, the color is intended to evoke notions of "royalty."
―
5:53: A large majority of Emmy Awards were given out before tonight at last weekend's Creative Arts Emmys, including categories ranging from outstanding animated program ("The Simpsons") to best guest actress in a comedy series (Jane Lynch for "The Marvelous Mrs. Maisel." Check out our coverage of the trophies that have already gone out.
―
5:45: A few answers to your frequently asked questions about the Emmys:
Where can I watch the Emmy Awards on TV?
The 71st Primetime Emmy Awards air Sunday, Sept. 22, from 8 p.m. to 11 p.m. on Fox.
Who is hosting?
Taking a cue from the Oscars, there is no host this year. Apparently celebrities are very hesitant to host award shows these days — mostly because it's a ton of work only to get inevitably ripped apart on Twitter.
Which show has the most nominations?
HBO's "Game of Thrones" has a whopping 32 Emmy nods, which is the record for most nominations for a show in a single season. Not far behind: "The Marvelous Mrs. Maisel" with 20, HBO's "Chernobyl" with 19 and NBC's "Saturday Night Live" with 18.